Listen, we both know that you could be saving more on your groceries.
I'm not saying you need to hoard 455 rolls of toilet paper or that you need to spend hours cutting coupons, but there are a few weird (and easy) things you can do to save some money on your grocery bill each month…
1. Scan Your Groceries When You Get Home
Did you know that the Nielsen company will pay you to scan your groceries each week? Crazy, right?
Once you sign up to become a Nielsen Consumer Panel family, you'll be asked to simply scan the barcodes on your groceries and send your data off to Nielsen each week. Pretty easy, huh?
If you want to give it a try, you can fill out an application here:
Sign up to be a Nielsen Consumer Panel family here. 
As an active participant, you earn gift points which you can redeem for different types of merchandise.  You can choose electronics, jewelry, household items and even toys for the kids. The longer you stay on the panel, the more opportunity you have to earn points towards prizes.
You also receive entries for the panel's many sweepstakes.  Prizes include money, vacations, and brand new vehicles.  This is a great way to make your consumer voice count and be rewarded handsomely for recording your purchases.  You're already going to the grocery store anyway, right?
2. Use This Free $10 Amazon Gift Card 
Have you heard of MyPoints? They are a cash-back site that lets you earn rewards by shopping online and printing coupons. We use them all the time at our house, because it's instant way to save on everything you buy (for example, they give you up to 5% cash-back on every purchase you make at Amazon).
But, enough about that, here's how to get a free $10 Amazon gift card that you can use to buy groceries (or anything for that matter):
Sign up for MyPoints here using your email or Facebook account (it's free).
Use the Mypoints portal the next time you need to shop online (it's connected to thousands of stores including Walmart, Amazon, and Target).
As long as you spend $10 at any of those stores, Mypoints will reward you with 1,750 bonus bonus which you can redeem for a free $10 Amazon gift card.
3. Get 2% Back on All of Your Grocery Store Purchases
If you're not using a rewards card for your grocery purchases, you're really just leaving free money on the table.
One of my favorite reward cards is the Fidelity® Rewards Visa Signature® Card because they give you a whopping 2% back on everything you purchase…
That's the highest reward rate that I've seen, plus this card has no annual fee!
You do need to have excellent credit to qualify for this card. Also, in order to get the maximum amount of rewards, you'll need to have a qualified Fidelity account to deposit the rewards. Eligible Fidelity accounts you can redeem your rewards into include most non-retirement accounts, as well as Traditional IRA, Roth IRA, Rollover IRA, SEP IRA, and Fidelity®-managed 529 College Savings Plan accounts.
And consider this – the average family spends $1024.70/month on groceries, $368/month on gasoline and $163/month on utilities. If you can commit to just putting those purchases on your card, you could pocket an extra $31.11 every month!
4. Quit Costco/BJ's/Sam's Club
Listen — I shopped at the warehouse stores for years, but it's gotten to the point where you can often buy bulk or wholesale groceries cheaper online.
One of my favorite places to shop is at Thrive Market because you can buy food at up to 50% off retail prices, plus the stuff they tend to stock is usually healthier than what I find in the store.
Plus, they offer Penny Hoarder readers and additional 20% off your first purchase and free shipping when you spend $49+. And they're delivered free to your door.
I also like buying bulk items online on Amazon Grocery. Not only will you save $50/year in membership fees, but Amazon will ship most things to you for free.
Also, do you know about these Amazon-only coupons that are posted each week? For example, this week there are coupons on formula, granola bars, K-cups and more. Just click the coupons you want and Amazon will automatically deduct them from your bill before you check out.
5. Take a Picture of Your Receipts
Yeah, did you know that you can get cash-back on your groceries just for taking a picture of your receipt? The very popular website and mobile app, Ibotta will pay you to do just that. Here's how it works….
1. Sign up for Ibotta here (you just need a name/email address to start).
2. Browse through the cash-back offers in your area and take note the next time you go to the grocery store (the offers change every week). For example, in my area Ibotta will give me .50 if I take a picture of a receipt showing that I bought a gallon of milk and a $1.00 if I take a picture showing that I bought graham crackers. Pretty cool, right?
3. So, obviously you don't want to buy a bunch of crap you weren't already going to buy. But, this can be an easy way to get a little cash-back for doing something you were already going to do. Also, you can still use coupons on the items you're buying, so this can be a nifty way to "stack" your savings and in some cases, you might be able to get the item for free.
4. Once you've reached $5 earnings or more, you can request payment via Paypal or Venmo.
5. If you like doing this kind of thing, some other good rebate apps are SavingStar & Checkout51. Download them all and sometimes you can get three rebates on the same item.
6. Earn $20+/Month By Talking About Food


Did you know that the packaged food companies will pay you for your thoughts? These companies are hungry for data on what shoppers think of their products, so paid food panels are becoming more and more common.
Some of these panels are hosted online — sign up for sites like Swagbucks & Vip Voice to participate. If you sign up for both, you should easily make an extra $20 or more each month (most surveys pay between $3-$4 each for 20 minutes of your time). Heck, sometimes I fill them out while I'm watching TV.
Larger panels are hosted locally — these usually require 2-4 hours of your time, but they pay up to $75. Here's how to participate in a local panel.
7. Save on Your Entire Shopping List with Retale
Yep, Retale. Not retail.
We all know the best way to save is by shopping around. But who has time for that? Running all over town is time consuming and kind of annoying, which is why we've fallen in love with this money-saving app.
Retale shows you all of the weekly ads from stores in your area. You can search on specific items to find the best deals near you—then add them to your shopping list with one click.
And if you're someone who likes to stack, they even have a tab to discover store coupons to make the deals even better!
Here's a link to download the app on Android.
Here's a link to download the app on iPhone.
8. Print $1,000 in Free Coupons Before They Expire

Here's a quick way to get up to $1,000 in high value coupons that will help you get free or nearly free cereal, frozen vegetables, canned goods, yogurt, and more.
Take five minutes and sign up for these five newsletters (you don't have to use your main email):
Betty Crocker – Up to $250 in Free Coupons
Give Betty Crocker your email address and they'll send you up to $250 worth of coupons that can help you get deeply discounted or free canned goods, cereal and yogurt.
Betty Crocker's FREE email delivers the best of Betty's 15,000 kitchen-tested recipes, how-tos and more – straight to your inbox! PLUS, get up to $250 per year in coupons savings and access to FREE samples (quantities limited, one per member)
Since you're limited to one set of coupons here, have your friends, spouse and family sign up too so you all get a ton of coupons.
Pillsbury – Up to $250 in Free Coupons
Sign up for Pillsbury.com emails to receive up to $250 in yearly coupons, access to free product samples (quantities limited, one per member) and the easiest recipes sent right to your inbox.
Because of the high value of these coupons, they've limited it to one set of coupons per person, so get your spouse to sign up if you need more coupons.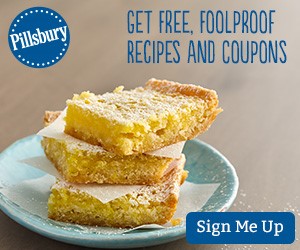 Tablespoon – Up to $250 in Free Coupons
Sign up for Tablespoon's free email and score up to $250 per year in coupon savings. Plus, stay on top of your food game with free recipes for doable dinners, delish desserts, party snacks and more!
Fill out their short form here (takes 10 seconds) and then select "coupon & sales." Then click the button marked "clip all" to get the coupons.
(Side note: A few readers have reported not seeing the "coupon & sales" link. You may have to log out and log back in for it show up.)
Kellogg's – Over $150 in Free Coupons 
Sign up for the Kellogg's Family Rewards and receive over $150 in coupons that you can use on cereal, crackers, waffles, Pop Tarts and more.
Plus, I love Kellogg's Rewards, because once you're signed up, they'll give you points every time you buy a Kellogg's product. Those can be turned into gift cards or free groceries.
ReadySetEat –
Sign up for ReadySetEat and they will send you local savings and  exclusive coupons based on the grocery stores in your area. The coupons are from brands like Hunt's, Ro*Tel, Pam, Egg Beaters, Chef Boyardee, Healthy Choice, and many more.
Plus, I like that they occasionally send me recipes and dinner ideas that can be made in under 30 minutes.
Your Turn: Would you use any of these unusual ways to save a little extra on your groceries?
Good luck Penny Hoarders!
This article originally posted here.
Disclosure: This post contains affiliate links. By checking out this featured content, you help us bring you more ways to save! Lastly, General Mills has sponsored the placement of Betty Crocker, Tablespoon and Pillsbury in this post. We appreciate them sharing money saving tips with our readers!